Karts enfant et karts biplace à Speedkart from speedkart on Vimeo.
Kids Kart Renting
In Speedkart, for kids is happiness!!!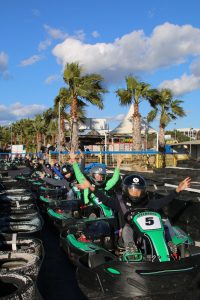 Here we have a 450m karting track only for children. Everything has been created for children (from 1m20). Like this, they can learn how to drive a kart.
The kart is very large for more security; certain curves are raised to create sensations and help beginners because the curve turns on its own.
Karts have an adjustable drive, an adjustable bucket seat for all sizes and a special bucket seat for little children.
Daddy can also accompany his child in this circuit.
First meters; first curves are very important for new converts. In Speedkart, our monitors bring a vigilance and an attention to each child. A monitor can stop/slow all karts or adjust their speed individually remotely.
But, quicly, children master and gain confidence.
All safety conditions are optimal:
> harness for karts
> helmets
> safety systems
> amortizing protection on karting
> 2 speed systems adjustable on each karting (mecanic and electronic) that avoid to accelerate and brake at the same time
> loop break that slows necessarily kartings
Children track is better equipped than adults track!
Look at the pictures and you will see children with a big smile. In Speedkart, we don't want to create vocations; but offer to children fabulous moments and memories that they will never forget.
They feel independent and drive as dad and mum: for them, it's fantastic.
At Speedkart, we are very proud of being pioneers in France in children kart enjoyment.
Children kart
Adjustable cracksets
Adjustable bucket seat
Height-adjustable steering wheel
Special bucket seat for people of short statures
Bumpers all around the karting
Support build in silentbloc, for more flexibility and impact absorption
Front bumper for front impacts
Enhanced front bumper to avoid impacts
Safety systems
New safety harness with windin
In case of danger, general stop system with remote access.