Tracks for Motorbikes/Quads
Absolutly all children (from 6 years old) are able to drive a mini-motorbike or a mini-quad.  Animators are there all along the race to ensure a safe place.
History
Speedkart's adventure starts with a track for mini-motorbikes, in 1983. It was a driving training school (firts for mini-motorbikes in France). Now,
some former Speedkart drivers are France's Champions of motocross.
Speedkart became, with a good team and sport spirit a great leisure park. Everyone can enjoy karting's spirit in a safe environment.
Our mini-motorbikes and miniquads are adaptable to the size of your child.
Organisation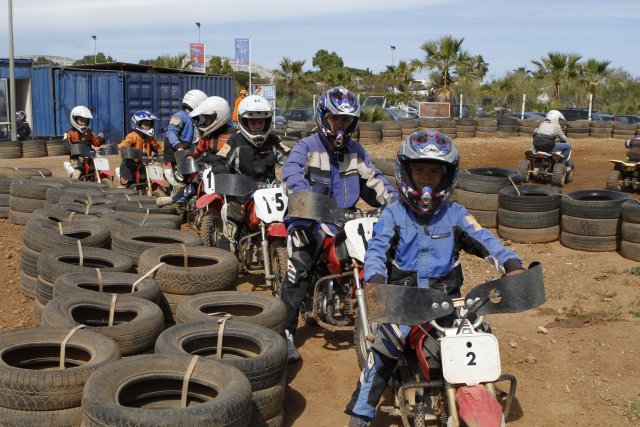 Speed can be adjusted according to child's level.
A real equipment of champion for children, adaptable to their size (everyting is supplied).
Our priority is to highlight safety rules.
First minutes are really important for your child. He can discover the track, the vehicle and quickly, be in confidence. Even if parents are worried at the beginning, they realised that everything is very safe in Speedkart. They can be proud of their children.
We have 99 % of success during the driving lesson with minimotorbikes and miniquads at Speedkart !!!
They will never forget this first experience !
An unforgettable memory
Some kids learn how to drive a two wheels really young. When they become adults, they are still our clients and when they
think about their beginnings, it's always with emotion.
We are proud to give you some beautiful memories since 20 years.
A good experience for their future driving lesson !