Safety
Enjoy reliable equipments

Karts for children are over-equipped to be sure about reliability.
> An entire bumper to avoid shock
> Bumper are equipped with special foam and silentbloc for more flexibility
> Bucket seat with a seat cover for more comfort
> Adapted seat for small size
> Adjustable pedal mechanism
> A system to prevent to brake and accelerate at the same time : for an easy drive !
Speedkart offers you some exclusivity
:
>
Roll-over protection
>
New harness with rewinders
>
New tires : more soft for a better grip
>
Our karts are clean and relatively quiet
Karts are really easy to drive : let enjoy your kids in a safe environment.
Wide race track for more safety
All our tracks are really wide, from 9-metres to 16-metres. Choose your trajectory and go fast always with safety equipment. Overtake your friends when you want, you don't risk any trouble !
Everybody can go fast and overtake, it's time to push your limits with safety rules at Speedkart !
Speedkart trackers
Everything is designed for an optimal safety: vigilance is required.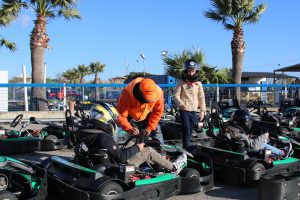 All the trackers are trained to guarantee safety for everybody.
Our race tracks are always watched by Speedkart trackers. For more security, we adjust the number of trackers according to the group who is making the race.
They are here for your security, but also for your enjoyment.
They do everything in order to take care of you and give you some important advices.
During the race, they are strategically placed, you'll see them all the time. They ensure a safety race.
They are equipped with a system, a
remote control
which allows to stop or slow karts in case of trouble.
(First remote control: 1983). Since 2005, this system has changed, we can stop or slow the karts (all the group, or just few ones). It's more practical and it is always more safe. This is a
stop an go
system.
Obviously, we don't use this system a lot, we want to be sure that your kids enjoy the race !
Speedkart's philosophy is to ensure your driving enjoyment in a total safety environment.